Fashion History, Made:
The Spring/Summer 2018 Campaign
Gigi Hadid and Kate Moss return for SS18, photographed together for the first time ever.
The campaign takes a step in a bold, new creative direction: the iconic supermodels,
who have each starred in Stuart Weitzman campaigns, are joined by male model Jordan Barrett. The images spotlight the season's must-have silhouettes — and showcase the
brand's undeniable versatility. Get a behind-the-scenes look at the shoot.
DISCOVER MORE
Gigi & Kate:
The Supermodel Sound-off
Gigi Hadid and Kate Moss go toe-to-toe. The powerhouse pair talks career,
closets — and the last thing they Googled.
SHOP THE SS18 COLLECTION
"The Season for Loving"
A Short Film Starring Gigi Hadid
There's more than meets the eye. Gigi Hadid stars in "The Season for Loving"
directed by Cameron Duddy — director of the "Uptown Funk" music video
featuring Mark Ronson and Bruno Mars and bassist of country trio Midland.
The limited-edition Gigi mules, created in collaboration with Hadid, come to life
in the dynamic short film — both of which were inspired by the supermodel's affinity
for the evil eye talisman. Enhanced by a remix of The Zombies' 1968 hit "Time of the Season," the visually compelling video takes us on a mystical journey through the
streets of NYC. In Gigi's words, "Look Good, Do Good": The EYELOVE
and the EYELOVEMORE celebrate our partnership with Pencils of Promise,
a nonprofit organization founded on the belief that every child should have
access to quality education.
SHOP NOW
On Set with Gigi Hadid
"The Season for Loving"
Go behind the scenes of the short film as the supermodel takes to the streets of NYC
wearing the EYELOVE and the EYELOVEMORE mules — a limited-edition collaboration
with Stuart Weitzman.
SHOP NOW
Gigi Hadid Takes the
Ultimate Shoe Quiz | Stuart Weitzman
Fall/Winter 2017
Gigi Hadid thinks on her feet. Find out what shoe silhouette best describes her,
where she saw her first-ever SW ad campaign and whose shoe closet
she would raid.
SHOP FW17
Hollywood's brightest stars. Music legends. Fashion icons. Get inspired by the
world's most stylish celebrities wearing Stuart Weitzman.
DISCOVER MORE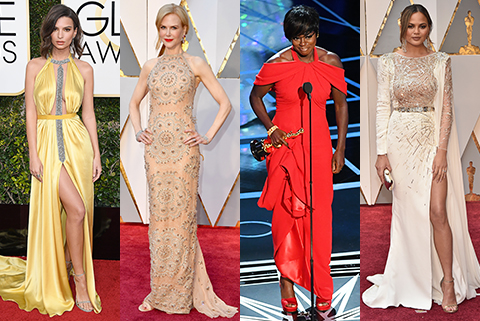 "Do it Right": a short film starring Gigi Hadid
and directed by James Franco
She's a knockout: Gigi Hadid packs a stylish punch and dominates the boxing
ring in this dynamic film. Inspired by Gigi's real-life workout regimen, the
energetic visuals capture her power, agility and gracefulness and are
enhanced by the upbeat soundtrack "Do It Right" by Martin Solveig
and Tkay Maidza. #doitright spotlights the Gigi Boot — an
exclusive collaboration with Hadid — which not only looks
amazing, but also helps do amazing things: Sales from the
limited-edition style will help fund the building of three
additional schools with Pencils of Promise, one
each in Ghana, Guatemala and Laos.

SHOP THE LOOKBOOK